GBC LAMINATOR BUYING GUIDE
Find The Right Laminator For You
Which Laminator Should I Choose?
This guide provides useful information and key considerations to help you make an informed decision and find the best laminator for you.
Laminators come in a wide range of designs and sizes with various features and capabilities. Therefore, it's important to find the right type of laminator for your needs. If looked after properly, a laminating machine is also a great investment as they can last up to 30 years!
What Is Lamination?
Lamination is a simple process using a machine that allows you to protect,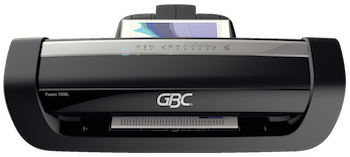 preserve and enhance documents with a long lasting, durable plastic coating.
Lamination is an effective technique used to make documents look professional, and to safeguard them against creases, tears, spills, fingerprints and everyday use.
There are three key types of laminating machines; pouch laminators, a fully automatic laminator and roll laminators.
Roll laminators are more suited to commercial environments as they are intended for high-volume laminating; often for larger items such as banners and posters.

Pouch Laminators
Pouch laminating machines use plastic pouches; you simply place your document inside the pouch, then heat is used to fuse the pouch together and seal the document.
Laminating pouches are available in a variety of sizes and thicknesses. Pouch laminators are most commonly available in A4 and A3 sizes which suit most users.
Key benefits:
Ideal for light to moderate use

Portable and easy to store

Easy to use and operate

Automatic Laminators
An automatic laminator is a fully automated machine that significantly improves productivity compared to using a traditional laminator.
The Foton 30 delivers innovative, industry leading technology. Users can automatically laminate up to 30 A4 or A3 documents in one go, or switch to manual mode for ad hoc sized pieces. It uses a dual-sided roll film cartridge so there's no need for pouches.
Key benefits:
Ideal for high volume day-to-day lamination

Easy load gloss roll film cartridge

High quality professional results, every time
Key Benefits Of Laminating
P
rotects:
Lamination protects documents from wear and tear and from damage caused by frequent handling, liquid spillages, finger prints, dirt and so on. It keeps documents in excellent condition by sealing them in a watertight plastic coating.
Preserves:
Laminating is a great way to preserve your documents by improving the quality and keeping them in excellent condition, for frequent handling now and in the future.
Prolongs:
Lamination is long-lasting as it prolongs the life of any document and extends its usefulness. A laminated document can be easily wiped clean, helping to maintain a pristine appearance and legibility of text.
Professional appearance:
Any printed materials that you produce and distribute reflect your business and your brand, such as brochures, presentation materials, restaurant menus or signage. Laminating these documents helps to build a respectable and professional brand image.
Perfectly enhances:
Lamination perfectly enhances any printed material, amplifying the depth and richness of the ink to improve colour contrast, which results in an all-over better quality and brightness of print.

Small & Convenient
Although used frequently for professional reasons, a laminator is handy in the home too; such as for protecting important paperwork or photos.
Pouch laminators are the perfect choice for desktops, small offices or home offices. They are portable so can be easily stored away or kept on a desk.
If you want to laminate small to medium-sized documents such as photo's, menus or ID cards, then an A4 laminating machine should meet your requirements.

Compact & Heavy Duty
For larger documents or more frequent day-to-day use, the GBC Foton 30 automatic laminator or our Fusion range of A3 laminators are ideal.
The Foton 30 can laminate up to 30 sheets in one go, and uses a unique gloss roll film cartridge. One cartridge can laminate up to 250 A4 sheets; taking the hassle out of loading and feeding pouches manually.
Also for larger documents up to A3 size, a wider pouch laminator such as the Fusion 7000L is suitable.