Orchestrating a Safe Return to Work: Top Tips from Our Expert
10.06.2021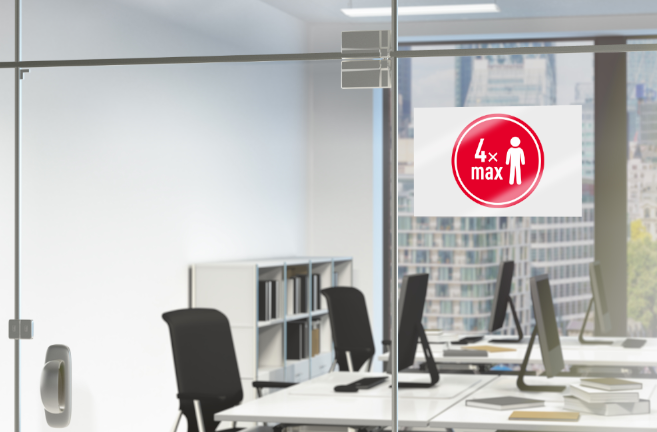 With the success of the vaccine rollout and sights still set on the end of June for the lifting of restrictions, we're closer than ever to making a return for the workplace. Some never left, some may have been making occasional visits to the office over the past few months, and others may not have set foot in their workplace since March of last year.
The return to the office may only happen part of the week for staff, as many organisations will likely adopt hybrid or flexible working models. However, regardless of the circumstances or situation, facilities managers, health and safety professionals, and business leaders have been tasked with the important responsibility of ensuring staff can return safely and feel protected during whatever time they spend on site.
This challenge has been the central focus of Lee King, who is ACCO's own Director EHS & Facilities EMEA. Over the past year, Lee and his team have been tasked with creating and implementing the plans and measures for the safe return to work at all 38 of ACCO's sites across Europe, including our Aylesbury head office. We spoke with Lee about the work he has been doing and his insights into the next few months. He said:
"I think the impacts of COVID-19 will be with us for some time. Safety has always been a number one priority for many facility managers. The actions we take now to prevent the spread of the virus will build trust and confidence amongst our customers and staff alike. It will help limit anxiety and concerns as we eventually return to our offices/ facilities."
With this in mind and as many other decision-makers face similar challenges in their own organisations, Lee shared his top tips and key steps for ensuring a safe return to work:
1. Conduct a Thorough Risk Assessment
Even with vaccinations minimising the risk of serious illness, there are still various risks presented by the coronavirus. Before you can welcome staff back into your office space, you should conduct a thorough assessment in order to identify potential contamination or transmission points around the site. Some common ones include lifts, doors, corridors, coffee stations, meeting rooms, and workstations.
However, there are a few that may seem less obvious. For example, shared equipment in an office is not just a risk from a high-touch standpoint, but you also have the issue of people loitering around these machines while they wait for their job to be done or wait their turn with the equipment. Common culprits are photocopiers, shredders, or laminators. A good solution here is to introduce equipment that will minimise both the touchpoints and time spent loitering. ACCO offers a range of autofeed shredders from both Rexel and Leitz, which can handle large jobs automatically and minimise the amount of contact required by the user. Additionally, Rexel and Leitz both offer fully contactless products such as electric staplers that require no touch at all. Also in the ACCO portfolio is the GBC Foton 30, the world's first fully-automated desktop laminator. The user loads their job into the machine, presses a button, and the machine takes care of the rest. There's no need to supervise the machine while it processes the job, meaning the user can walk away and return when the job is done. These adjustments may seem small and inconsequential, but can actually go a long way in minimising potential transmissions and helping to keep your people safe.
2. Develop a Plan
Once the risks have been identified, the next step is to develop a plan for how you intend to tackle them. Some things you may consider might include:
Limiting the occupancy levels for shared spaces such as meeting rooms, canteens, or collaborative workspaces
Implementing temperature checks
Increased or enhanced cleaning measures, including sanitation stations
Using dividers and screens to prevent close contact. Nobo offer a range of social distancing screens that can be either floor mounted, desk mounted, or mobile and come in transparent acrylic or felt for more privacy.
Increasing fresh air supply either through opening windows and doors or introducing an air purification solution like the Leitz TruSens, which uses HEPA filters and UV-C technology to trap and destroy harmful airborne particles and germs.
Introducing new health and safety-focused tools and equipment to the office, such as those previously mentioned here or Kensington's washable keyboards and computer mice.
4. Assemble a Team or Task Force
For any new measures to be effective, enacting them should be a team effort. Organising a COVID-19 management team or task force to oversee and manage your response, new measures, and potential changes to the situation. These individuals will be responsible for making sure that the proper plans are in place and the right actions are enforced day by day, and they will also serve as point people for communicating these measures to your people. Keeping these individuals in the loop is essential, so a shared platform such as Teams or Slack can help ensure everyone has the right information and documents available.
5. Communicate Clearly
Of course, your staff cannot adhere to the new measures if they don't know what they are. Ensure that you are clearly communicating expectations and reinforcing the messaging. You might consider making a short video of your new protocols and distributing it ahead of the return so employees know what to expect. Then, once they're there, signage around the office will be crucial for driving the message home. This is another area where the Foton 30 can be of great help, as it allows you to laminate a large quantity of signs quickly and easily. Laminated signs last longer and can easily be wiped down for sanitation. If there are any changes to your plans as the situation evolves, ensure your staff are informed properly.
6. Monitor and Review
If the past year has taught us anything, it's to expect the unexpected. We have witnessed firsthand how quickly the situation can change. Hopefully those days are behind us, but it is important to be ready to adapt, change, and have authority if the local or national situation calls for it.
We at ACCO want you and your team to have everything you need for a safe return to work and offer a wide range of solutions to help maximise efficiency while minimising risk. Browse our portfolio of brands on our website here.