Communicating Safety For The Return To Work
14.06.2020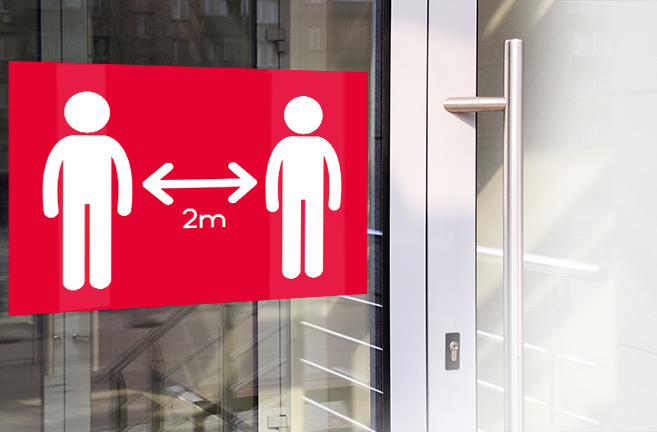 A return to work transition requires a period of consideration to ensure the safety of employees, customers and clients. In addition, business owners and managers will want to ensure that they are doing everything to make a phased return to work run smoothly. In a poll of 1000, 44% of working adults said they felt anxious about returning to work because of the health risks posed by Covid-19. A step that will help to minimise anxiety for staff and employers is the display of clear office signage to communicate health and safety measures. Laminated signs can give employees clear advice and instructions which will help to improve confidence and alleviate workplace worries. Any laminated documents can also be easily wiped clean and disinfected when required.
GBC offers free downloadable sign templates via our Signmaker website which can be customised to suit your organisation and the communication messages that you require. Combined with our high-quality professional laminators and pouches, GBC offers a complete solution for your organisation when workplace signage is of paramount importance.
Workplace Changes
Many companies are preparing for a return to work following Covid-19. As a result, employees feel unsure about how their working day will alter to ensure adherence to stricter health and safety measures. Flexible work arrangements including larger work areas for each person, or flexible working between the home and office, will take time to get used to for many. Managers may need to make changes to existing collaborative office design to ensure any health risks to employees are minimised.
While there might have been lengthy consultation periods for workplace changes in the past, a prompt return to work following isolation does not allow for this. Safety measures could include physical distancing, the use of face masks and gloves, or staggered start and end times to reduce rush hour pressures. All of these adjustments need to be quickly communicated to staff through clear signage.
Business Signs
One of the easiest and most effective ways to remind a large number of employees of new safety measures is to display clear signs and information throughout the workplace. Depending on your business, you may need to display information about regular handwashing, use of PPE, or reminders for safe social distancing. For free downloadable workplace signs which can be customised to suit your needs, please visit our signmaker website. As strict health and safety measures are likely to be in place for some time, guaranteed longevity of the signs you display is required. Laminating also offers protection against wear and tear, liquid spillages, dirt and fingerprints. Laminated documents are easy to wipe clean with antibacterial products, avoiding any potential contamination.
With over 70 years of industry expertise, GBC is a global leader in laminating. We have recently launched the Foton 30 Automatic Laminator; making laminating multiple documents as simple and productive as possible. With the post-lockdown return to work in progress for many, it is of paramount importance that signs are promptly displayed. The Foton 30 laminates up to 30x A3 or A4 documents at the press of a single button. Pressing one button reduces touch points compared to a traditional laminator, making it an ideal choice at a time when hygiene is at the forefront of our minds.
Post-Pandemic Workplace Safety
After Covid-19, the Foton 30 will remain an invaluable piece of office equipment. Unlike most laminators, an employee does not need to spend time loading the laminating pouches or feeding them in one at a time. The Foton 30 uses a unique film roll cartridge and there's no need to wait for the machine to warm up, either. Simply load your documents, press a button and walk away to continue with other tasks.
At GBC, we also produce UV resistant laminating pouches and peel n' stick self-adhesive pouches which are ideal for temporary or long-term signage. Laminated documents have a prolonged lifespan and can be wiped clean to remain pristine with permanently legible text or images. Laminated signs give a professional appearance with amplified depth and richness of the ink for improved colour contrast. This reflects the quality of your brand and business for displays or during meetings.
Professional lamination can help you communicate safety for the return to work. Use our buying guide to find a laminator to suit the needs of your business and your employees.